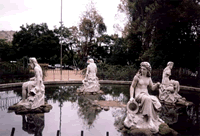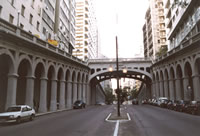 Known for it's amazing sunsets (or por de sol), Porto Alegre is one of the most captivating cities in Brazil. It hosts two nationally renowned soccer teams (Internacional and Gremio), Teatro de Sao Pedro (an amazing theatre, home to art collections and array of recitals) and it hosts a world class port.
Although Porto Alegre has magnificent waterfront vistas and plenty of watersports, it does get somewhat chilly to participate in the watersports during the cold season. When travelling to Porto Alegre, one can't miss out on opportunities to go to the beach or the highlands. The beaches are a delight to frequent. Of course, most are no more than an hour away, and are host to many summer homes and frequently festivals as well. In the highlands, there are as many things to do as there are people. Only two hours, at the most, one can experience one of the most romantic and elegant cities in Brazil, called Gramado. Here, you'll find an assortment of sites to see and things to do. Famous for its wineries, chocolate factories, and Cafe Colonial (all you can eat, German restaurants), it hosts the Brazilian cinema awards.
The strong regional spirit in Rio Grande do Sul state makes for a rich folklore of music and dance coupled with the traditional "churrasco", (barbecue) and the "chimarrão" (mate tea).
Location
Porto Alegre in Brazil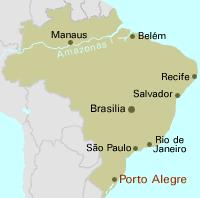 Links
Porto Alegre Convention and Visitors Bureau
A detailed web site about Porto Alegre
Online webcams
By travelers for travelers - Web site with traveler's opinion about Porto Alegre and Brazil.